A fascination with light and shadow, reflection and refraction, pattern and water movement drives the minimalist abstraction in these paintings of real landscape. I take the contemporary search for the sublime to the extreme of simplicity. Countering an information-saturated culture where little is unknown or unexplored, these paintings create an impression of something familiar yet out of reach and indescribable. The landscape overwhelms with pure sensation. 

Juxtaposed with atmospheric effect, these paintings represent striking geological rock formations on the English coast, from the deep dark shales of Black Nab in Yorkshire to the brilliant white chalk of the Pom Pom on the Isle of Portland. Solidity and form is framed by colour and light.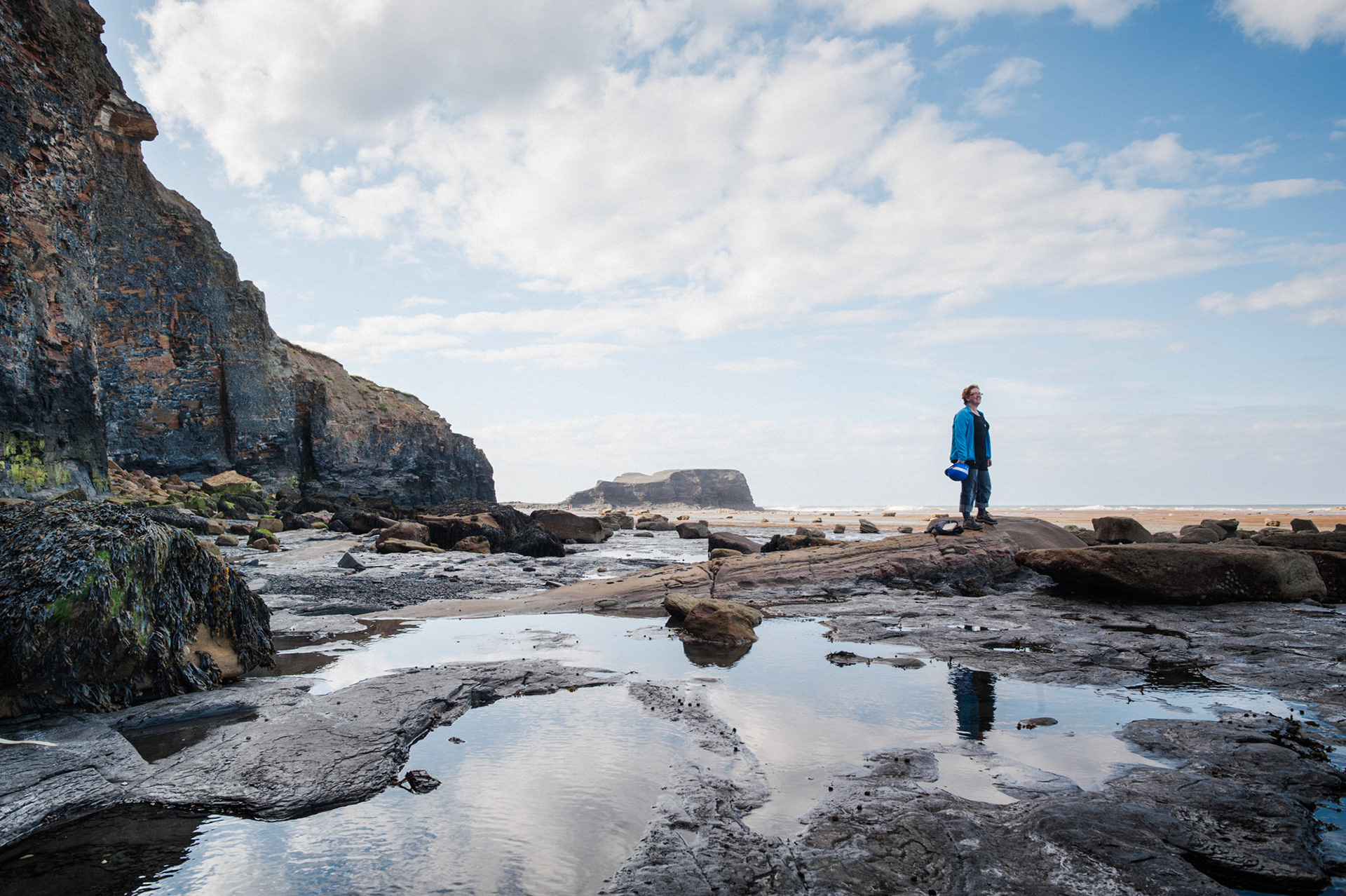 An American-British artist, I identify very strongly with the English tradition for seascape painting while still retaining a certain "midwestern" eye for landscape with flat perspective and vast open spaces. Born in Chicago, after 25 years in Britain I finally found my way to Yorkshire and now work from my studio in Scarborough. Half artist, half scientist, I bring my academic knowledge of geology and astronomy to my work - aiming to capture the mechanics of light and the visual patterns of sedimentary processes.
My work has been shown at galleries across the country and is collected internationally. I've had to honour to exhibit with the Pastel Society, Royal Society of Marine Artists, the National Maritime Museum, Dulwich Picture Gallery, at the Derwent Art Prize, and galleries on Cork Street. Projects have included astronomy drawing workshops with the Essex Wildlife Trust, a drawing residency on the New Jersey coast, painting residency on the Newfoundland coast, and time at the National Maritime Museum using their historic Camera Obscura.
I am a listed artist in the UK on AXIS (www.axisweb.org.uk) and a member of DACS.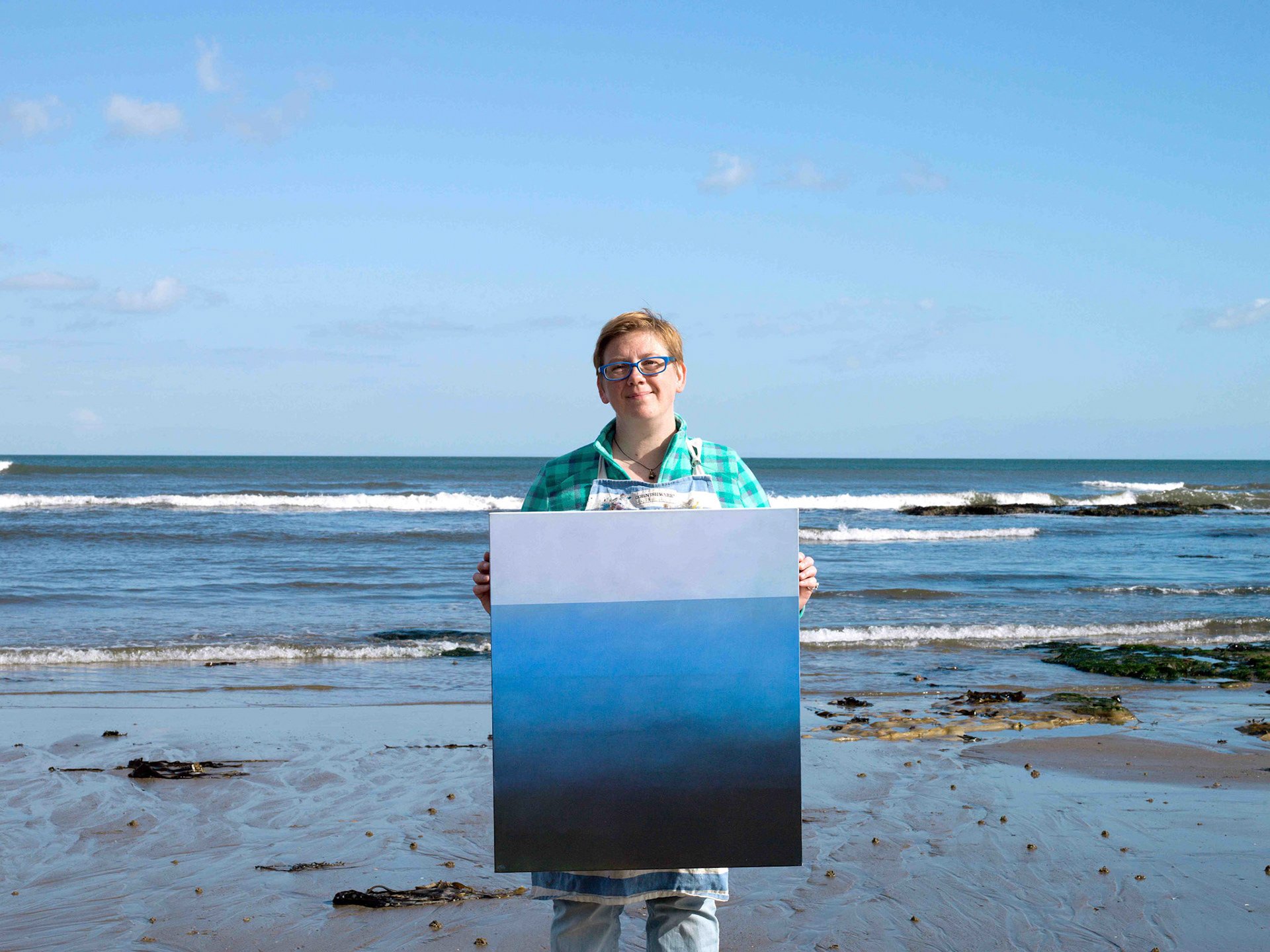 PUBLICATIONS and INTERVIEWS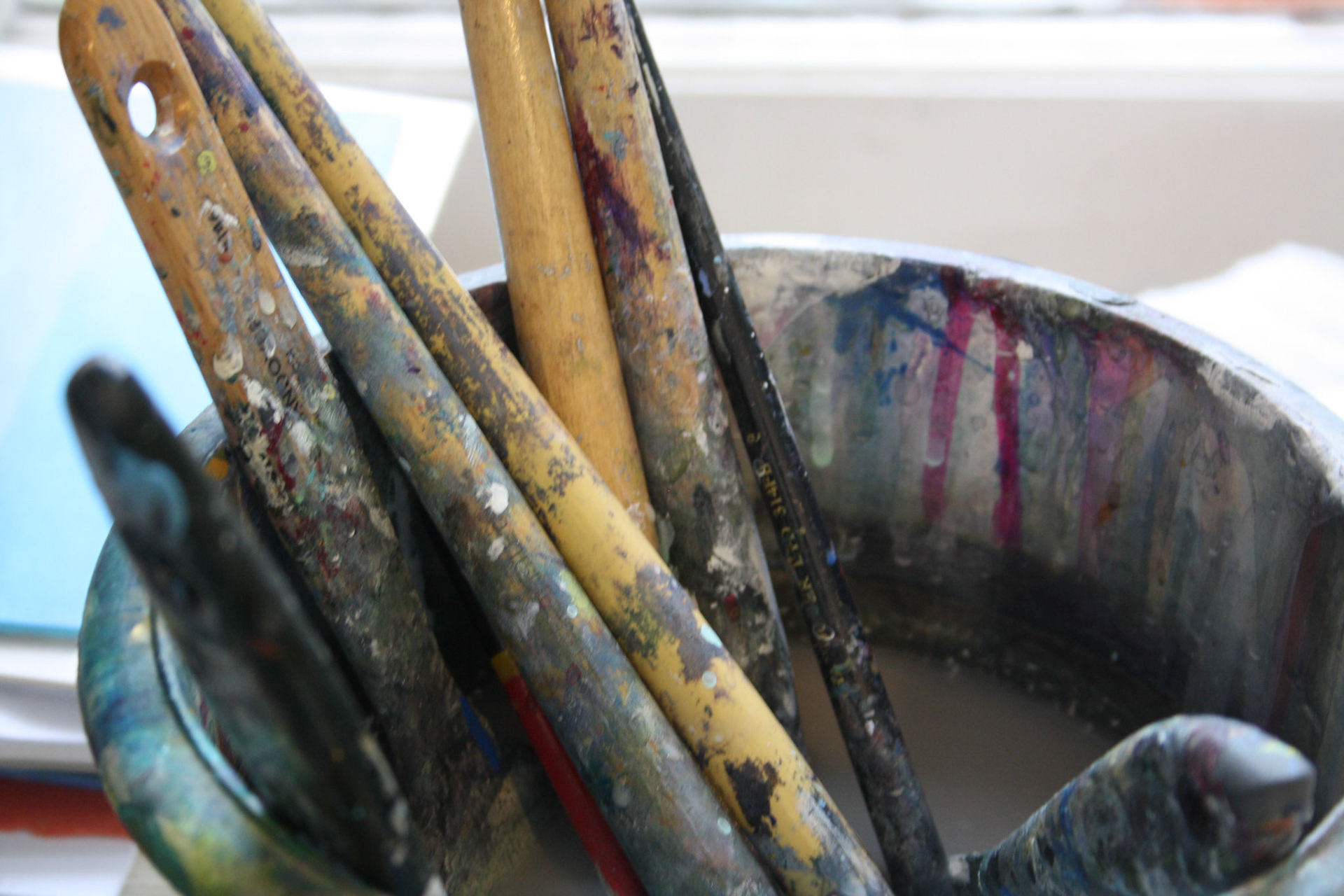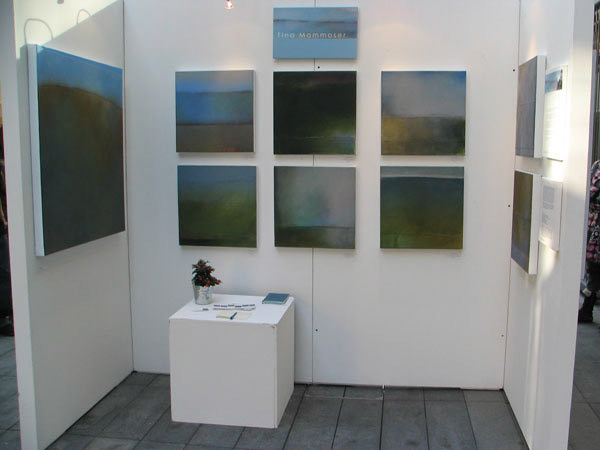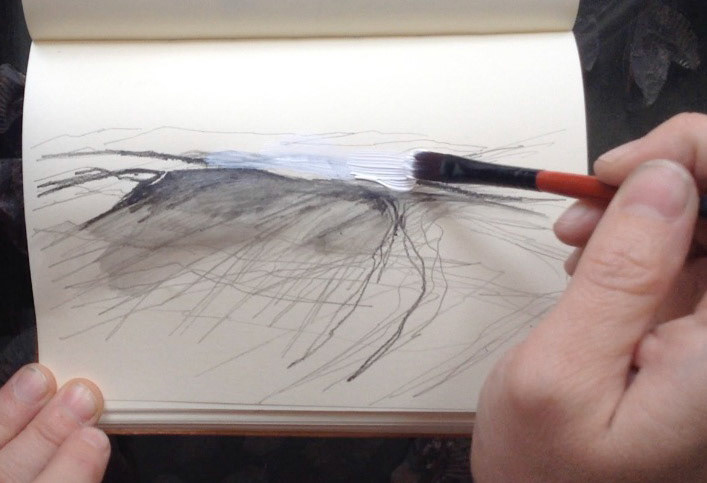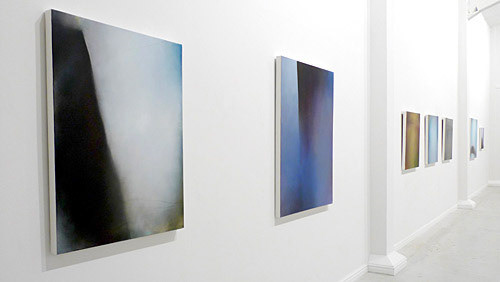 SHOWS AND EXHIBITIONS

Solo exhibitions
Aug 2016    Light, Grejczik Gallery
Feb 2016    Sea & Stone, new paintings for Scarborough Coastival, Grejczik Gallery
July 2015    Dogger, Grejczik Gallery, Scarborough
Mar 2012    Testing the Sublime Limits of Vision, NoFormat Gallery, London
Mar 2010    Dark, Paul McPherson Gallery, London
Apr 2009    2.73 Miles, Hebden Bridge, Yorkshire
Sep 2008    The English Coast Project paintings, ArtDog
Mar 2007     Gold, silver and sea, Lomas, Crouch End London
Sep 2006    Cinemascapes, commission for Greenwich Picturehouse 1st anniversary
Oct 2004    Defined Undefined, Stark Gallery London
Jul 2004, "Purple Landscapes", feature at Skylark 2 Gallery
Dec 2003, "Colour of Space", Limelight Gallery
Jan 2003, "From the Quaggy to Lake Michigan", Blackheath Halls
Aug 2002, "Tidal", Theatre by the Lake, Keswick
Mar 2002, "Living Water", The Studio, Beckenham
Oct 2001, "Tides & Textures", Stark Gallery, Lee Green, London
Group and juried exhibitions


  
Aug-Sep 2017  Wish You Were Here, Woodend Creative, Scarborough
Feb 2017 Two woman exhibition in support of HLGBT York, John Cooper Theatre
Jan-Mar 2017  East Coast Open, Scarborough Museums Trust
Jan-Mar 2017  To Please a Few, Cupola Contemporary Art, Sheffield
Jul-Aug 2016  Woodend Summer Open, Woodend Creative, Scarborough
July 2016 Platform Open Arts, Morphets of Harrogate
June 2016/2017 Whitby Art Fair, The Pavilion, Whitby
June 2016 Mycelium, AppleStore Gallery, Hereford
Aug-Sep 2015  Wish You Were Here, Woodend Creative, Scarborough
Jun 2015 3 Views, Grejczik Gallery, Scarborough
Jan-Mar 2015 East Coast Open, Scarborough Museums Trust
Nov-Dec 2014 Drawing: The Probity of Art, Palace Hub Gallery, Redcar
Mar 2014 Spring Exhibition, Blackheath Gallery, London    
Oct 2013 Art.Science.Gallery, Austin, TX, USA    
Oct 2013 Home: Contemporary Female Masters, Sofia Gallery, Bulgarian Embassy    
Sep 2013 Derwent Art Prize, Mall Galleries, London    
Jan 2013 AmericanBrits, two-artist show, Gallery 27, Cork Street, London    
2008-2013 Various seasonal group exhibitions, Blackheath Gallery
2008-2012 Annual Cork Street Open Exhibition for Charity, The Gallery on Cork Street
Mar-Apr 2011 Venice, Blackheath Gallery
Dec-Jan 2011 Quay Arts Open, Isle of Wight
May 2010 Dulwich Open House, represented by ArtDog London
April 2010 South London Women Artists, Bankside Gallery, London
July 2008 Coastlines, group show at Masham Gallery
Dec 2007 London Lesbian Artists, Pierre Garroudi Gallery, London Bridge
Sept 2007 Kaupthing Singer and Friedlander / Sunday Times Watercolour Exhibition
Jun-Jul 2007 Summer Exhibition, Stark Gallery Canterbury
Mar 2007 "Coastlines", Artshed Gallery, Dorest
Jul 2006 Summer Exhibition, Dulwich Picture Gallery
Jul 2006 Salon des Refuses, Jeannie Avent Gallery, Dulwich
Spring 2006 "Bliss", Will's Art Warehouse
Jan 2005 "New Discoveries", Great Expectations Gallery
Fall 2004 "Escape", Will's Art Warehouse
Fall 2004 Autumn exhibition, Stark Gallery Canterbury
July 2003 "Pride in the House", Lauderdale House
Oct 2002 Royal Society of Marine Artists, Mall Galleries
Feb 2002 Pastel Society, Mall Galleries
2001 "A Sea of Faces", Queen's House, National Maritime Museum

Residencies and Projects
Apr 2015     Colour in Art and Planets, Hubble 25th Anniversary talk, EWT Thurrock
2013-2014    Series of Astronomy and Art talks, Essex Wildlife Trust, Thurrock Thameside
Jan 2012    Artist in Residence, Ocean Grove, NJ, USA, sponsored by collector
Feb 2002    Artist in Residence, Pouch Cove, Newfoundland
Mar 2002    Camera Obscura project and exhibition, Royal Observatory, Greenwich

Other selected events & fairs

Affordable Art Fair, London (2002-4, 2008, 2011, 2013-2017)
North Yorkshire Open Studios (2015, 2017)
Urban Art, Deptford (2003-2012)
Second Floor Studio & Art, Open studios (2010-2012)
Featured in "FaceJacker", Channel 4, filmed in Blackheath Gallery
Fulham Palace Art Fair (2010, 2011)
Greenwich Open Studios (2008, 2009)
The Northern Art Fair, Harrogate (2008)
Chelsea Art Fair (2008)
Charity art auction in benefit of The Medical Foundation (torturecare.org) (2008)
National Society Annual Exhibition, Whitely's, London (2001-2005)
Lee Green Open Studios, London (2001-2007)
Glasgow Art Fair (2004, 2005)
Art Ireland (2003-2005)